Just starting your entrepreneurial journey? Been in business for over 10 years? Regardless of if you're a veteran business owner or just starting out, you may need to get a business loan. So, where do you start? Let us walk you through how to apply for a business loan.
How to apply for a business loan
Before you begin applying for a business loan, ask yourself, "Is a loan really necessary?" If you're a startup, this could be a resounding yes. But if you have been in business a while, you may be going back and forth between yes and no.
To help you decide, determine exactly why you need funding in the first place. And, ask yourself if there are any other ways to get the funds you need.
If you determine that it's best to go the small business loan application route, learn how to apply for a small business loan using these seven steps.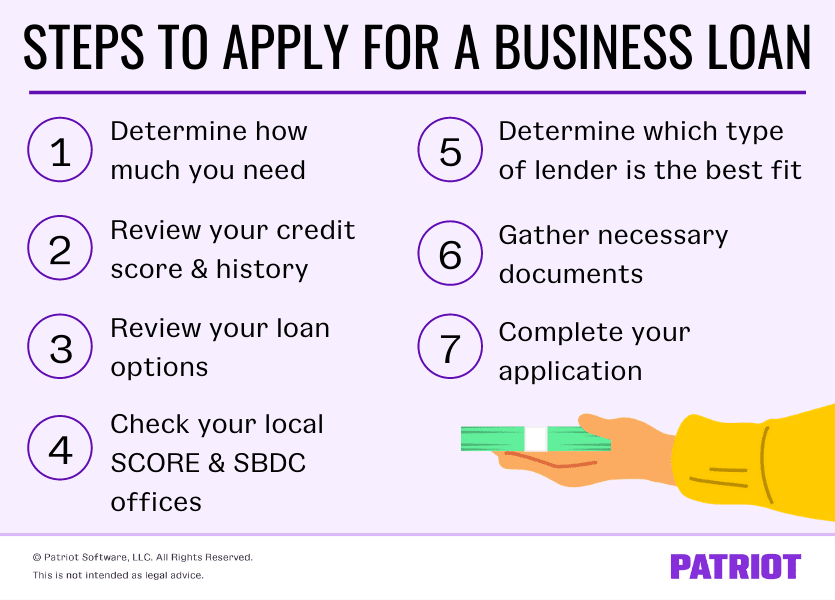 1. Determine how much you need
First things first, determine how much of a loan you need by listing out what you need the funds for. You may need a small business loan to:
Start your business
Expand
Purchase equipment
Increase inventory
Improve cash flow
What you need the funds for can vary depending on what stage of "life" your business is in (e.g., startup). To determine the ideal loan amount for your business, make a list of what you plan on using the funds for. Then, do a little research to help guesstimate how much in loans you'll need to cover the costs.
2. Review your credit score and history
Part of the loan process includes lenders looking at your credit history and score. And in many cases, lenders may look at both personal and business credit information.
It's a good rule of thumb to look at where your credit stands before you start applying for any type of loan—especially if you're a newer business owner.
Before applying for a small business loan, check out your credit history and score. You can request a credit score from an agency (e.g., Dun & Bradstreet). Or, you may be able to get a good idea of where your credit stands from reports from your bank and credit card companies.
Review your credit reports after you gather them. And, check out your credit score. A personal score of 700 or more is generally considered good (300 – 850 range). However, many lenders will want to see a minimum score of 680. A good business credit score is typically 75 or above (0 – 100 range).
The higher your credit score and the better your credit history, the more likely you are to receive a loan.
3. Review your loan options
There are a variety of loan options to choose from nowadays. Before you start shopping around for a lender and applying for a loan, you need to know the different types.
Many loans are designed for certain types of businesses or specific financial situations. Here are a few types of business loans to look into:
Bank loan: Most popular type of small business loan where a business applies for a loan through a bank
SBA (Small Business Administration) loan: SBA backs loans or lines of credit with a partial guarantee

SBA 7(a) loan: Use for working capital, equipment, real estate, renovation, and refinancing
SBA microloan: Good for starting a business

Short-term loans: Lump sums that you pay back (with interest) over a shorter set amount of time
Long-term loans: Larger amounts repaid over a long period with low interest rates
Term loan: Include both long-term and short-term loans that you pay back in a set amount of time with interest
Disaster loans: Loans for businesses struggling due to declared disasters (e.g., natural disasters, COVID-19)
Microloans: Loans for startups with small financing needs
As you can tell, there are a lot of business financing options available. Do your research and weigh the pros and cons of each loan option before making a decision.
4. Check out your local SCORE and SBDC offices
If you're a newer business, you may want to consider checking out your local SCORE and SBDC offices. Small Business Development Center (SBDC) and SCORE provide confidential advice to small businesses across the country.
SCORE consists of a retired group of business executives who can provide one-on-one guidance to business owners. SBDC, part of the Small Business Administration, also exists to help small businesses.
Both organizations can help assist you with the business loan application process and answer any questions you may have.
5. Determine which type of lender is the best fit for you
When it comes to getting a small business loan, you have a number of options. You're not tied down to only getting a loan from a large, national bank. You can also receive a loan from a smaller lender.
Here are a few types of lenders you can choose from:
Banks
Credit unions
Nonprofit lenders
Online lenders
Microlenders
The lender you may go with can vary depending on the type of loan you want (think back to Step #3). Before choosing a lender, do your research. Look at factors like interest rates and total borrowing costs. And, be sure to look at reviews to see what other clients have to say.
6. Gather necessary documents
After you narrow down which lender you want to go with, find out what documentation the lender requires for a loan.
Generally, you may need to provide the following information:
Business plan
Business banking account
Bank statements
Business license and permits
Identification (e.g., driver's license)
Other business documents (e.g., articles of incorporation)
Business tax returns
If you're a new business, you may not have all of the above information yet. Before you apply for a loan, make sure you find out what information you need and what accounts you must set up.
Each lender has its own requirements and eligibility criteria. So, check with your potential lender to find out what specific information you need to gather.
7. Complete your application
Gather all of your necessary documents? Great! Now comes the fun part: Submitting your application and officially applying for the loan.
Book an appointment with a lender to get the ball rolling on your business loan application. Depending on your lender, you may be able to apply online or over the phone. However, many lenders require you to fill out a paper application in person. Whatever method your lender allows, make sure you have your documents handy (e.g., business licenses and permits, ID, etc.).
Once you complete your application, it will go through an underwriting process with the lender. An underwriting process verifies your information (e.g., income, debt, credit, etc.) to issue an approval for the loan.
The application, underwriting, and funding process may take anywhere from a few days to a few months. Check with your lender to get an estimate of how long the process will take before you can receive a loan.
In some cases, you may need to make a pitch to your loan officer or lender on why they should trust your business with the loan money. This is where your business plan can come into play. To ensure you're prepared, rehearse and plan your talking points.
Post-business loan application process
After you go through the process of applying for a small business loan, you play a little waiting game. Again, how long you wait to hear back from the lender about their decision can take time, especially if you applied for a larger loan.
When the time comes, your lender will contact you with their decision. If you don't have any luck receiving a loan, you can always reapply later or try applying for a different loan. Your lender may even give you a few suggestions on the next steps.
You can also check out different forms of business financing, such as:
Lines of credit
Angel investors
Invoice factoring
If you strike out the first time around, remember that you have plenty of other funding options to choose from.
Whether you're starting a company or have been in business for years, you need a reliable way to manage your books. With Patriot's accounting software, you can streamline the way you record income and expenses to save time for what matters most: your business. Try it for free today!
This is not intended as legal advice; for more information, please click here.