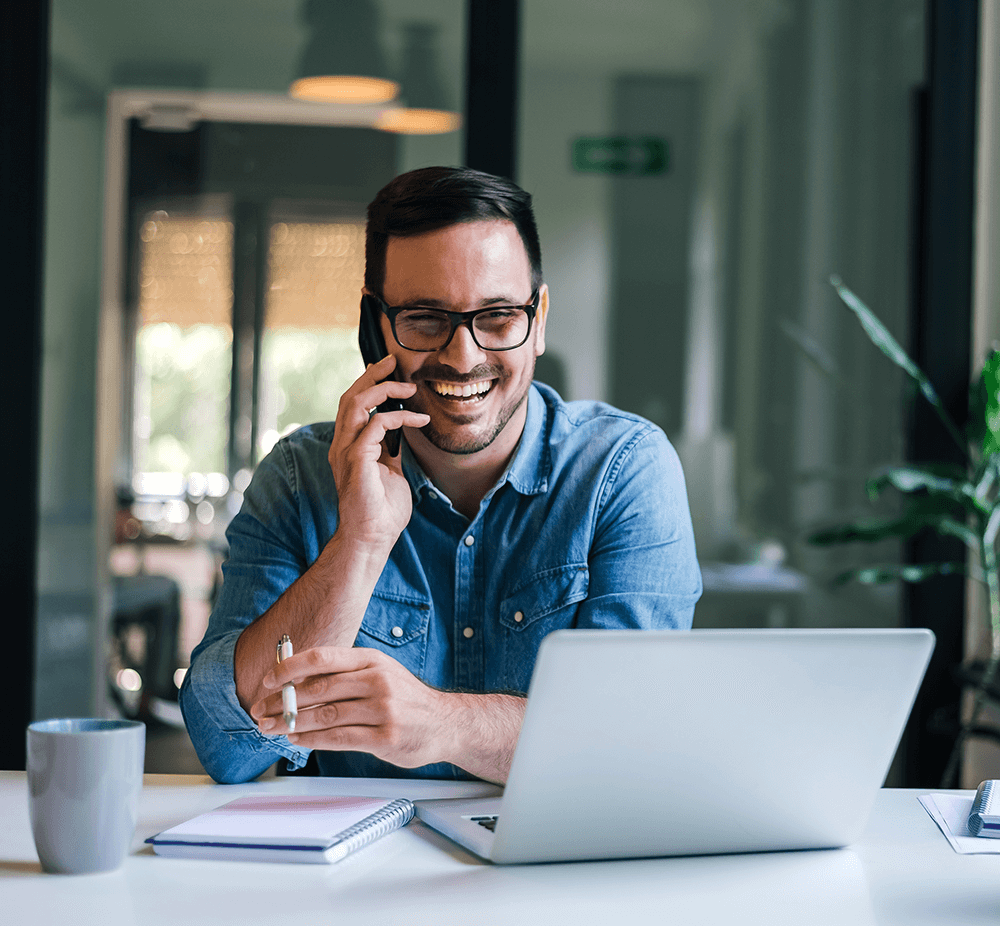 "I absolutely love Patriot Software. The customer service is outstanding and they are a company that truly understands the needs of small business owners like myself."
Mya Byrd, Trinity Tax Services, LLC, Courtesy of Capterra
Patriot Accounting Reviews
Thousands of small businesses rely on Patriot Software to make sure their accounting runs smoothly, quickly, and affordably. See how our customers use Patriot to streamline their accounting process.
Try It Free for 30 Days
4.9 / 5 Stars
Based on 50+ Customer Reviews
"I absolutely love Patriot Software. The customer service is outstanding and they are a company that truly understands the needs of small business owners like myself."
Mya Byrd, Trinity Tax Services, LLC, Courtesy of Capterra
"Pros: Ease of use Affordable Good Customer Service Cons: I haven't had any negatives in using the product for several years now Overall: My experience has been a good one. It's quick and easy to use while also doing everything I need it to. It takes care of all the tax submissions so I don't have to and it's at an affordable price. Much more affordable than my accountant had been before switching to Patriot Software. I would definitely recommend. Recommendations to other buyers: Try it. I think you will be glad you did."
Curt B, at Physical Medicine Injury Center, Courtesy of Capterra
"Pros: This product was easy to use. At first I hadn't had much luck with organizing my accounting, but this app definitely helped! Cons: It took me some time before I was able to figure out how to use the app correctly. Once I got into the swing of things, it was easy!"
Melisa Richardson, at Misty Morning Farms, Courtesy of Capterra
"Pros: Straightforward, intuitive, easy to use. Great support Overall: We utilize it for 1099's etc. The software is intuitive, and straightforward, so easy to use, even for a non-accounting type person. The support staff is very patient and knowledgeable. I highly recommend Patriot software. Recommendations to other buyers: Don't hesitate to use this."
Kim Teed, at Teed Sales LLC, Courtesy of Capterra
"Pros: Everything is so easy to navigate through. Cons: It is an awesome product. Overall: Great product. Easy to navigate through. It has access to online help and step by step instructions on how to accomplish what you are needing to accomplish."
Kenisha Williams, at Beni HR Consulting Group, Courtesy of Capterra
"Easy setup excellent guide"
Amaury Tapia, at Ecological Pest Control, Courtesy of Capterra
"Love this software for my solo private practice in health care!"
Maggie Perry, at Hilltop Anxiety Psychotherapy, Inc., Courtesy of Capterra
"I really enjoy this software. It makes it easy."
Shonda Allred, at JR's Transport #2, Inc, Courtesy of Capterra
"I have found that will the minimal knowledge that I already had concerning business taxes this product is exactly what I needed to not have to pay high prices for an accountant. They also have been helpful in making sure that we have applied for and pay all taxes that we should. There were several things that I was unaware of that need to be paid."
Stephanie Fields, at Glory Trucking LLC, Courtesy of Capterra
"I'm impressed and considerably happy with my product . keep the good work up."
Rv Rv, at Construction, Courtesy of Capterra
"Excellent accounting product. I even told my brother to use Patriot for his business."
Dwight Borges, at Borges Sleigh and Carriage Rides, Courtesy of Capterra
"Good service and easy to use."
Vivek Bhakta, at Amplified Data Link LLC, Courtesy of Capterra
"Wonderful! Can't say enough positive things about this product! We are a small family owned service provider company, and this product has helped us streamline our invoicing in one place, get up to date P&L statements, and know in an instant who still owes us money, who pays on time, and what our status is. The customer service is bar-none, their in-line chat feature is great, and their helpful hints and intuitive format makes learning this product very easy. If you are a small business owner, this product is an invaluable tool!"
Kathi Johns, at Home & Commercial Electronic Solutions, LLC, Courtesy of Capterra
"I really like it and it's ease of use. The only con are the reports available."
Yvette Kline, at Rushsylvania One Stop, LLC, Courtesy of Capterra
"I really like the software so far. It has been easy to set up, easy to use and when I called in, the customer service was pleasant and informative. So far I have no complaints."
Curt Blabaum, at Physical Medicine, Courtesy of Capterra
"Pretty straightforward in set up and maintenance. Customer Service is also good with an online chat at the ready anytime I had any questions."
Jeff Parks, at E&J Marketing, Courtesy of Capterra
"Program is easy to use and support, both online and on the phone is wonderful - fast, helpful answers to all my questions."
Lynn van Nuys, at Urban Bicycle Outfitters, Courtesy of Capterra
"I thought it was very easy to setup. Online application makes it very efficient. I love the website, and it is very affordable."
Tamara Maye, at TCM Enterprise, Inc., Courtesy of Capterra
"Very user friendly"
Thomas Ginster, at Ginster Law Office, PLC, Courtesy of Capterra
"Great deal works well!"
David Parrish, at Kruiser King, Courtesy of Capterra