When you start a business, do you just wing it? Or, do you take time to plan and research your strategies before you jump into the market? If you're like most entrepreneurs, you probably prepare your business before taking the plunge.
Before diving into a market or switching up a strategy, you need to do thorough research. Otherwise, your business could quickly sink.
If you want to stay afloat in the business world, you need to know how to conduct a market analysis.
What is a market analysis?
A market analysis is the process of gathering information about a market within an industry. Your analysis studies the dynamics of a market and what makes potential customers tick.
A market analysis may seem complex, but it's necessary if you want to lead your business in the direction of success.
When you conduct a market analysis, you learn the following:
Who are my potential customers?
What are my customers' shopping and buying habits?
How large is my target market?
How much are potential customers willing to pay?
Who is my competition?
What are my competitors' strengths and weaknesses?
Your market analysis can make or break your startup. Analyzing markets helps you reduce risks because you can better understand your customers and market conditions.
Your analysis also helps you clarify what makes you different from the competition. That way, you know what makes you stand out. Or, you know what you need to do to set yourself apart.
Whether you're starting a venture, introducing a new product, or growing your small business, market research can help take you to the next level.
How to conduct a market analysis: 7 steps
Conducting and writing a market analysis takes time and lots of research. It's not something you can whip up overnight. To help guide you through your market assessment journey, follow the seven market analysis steps below.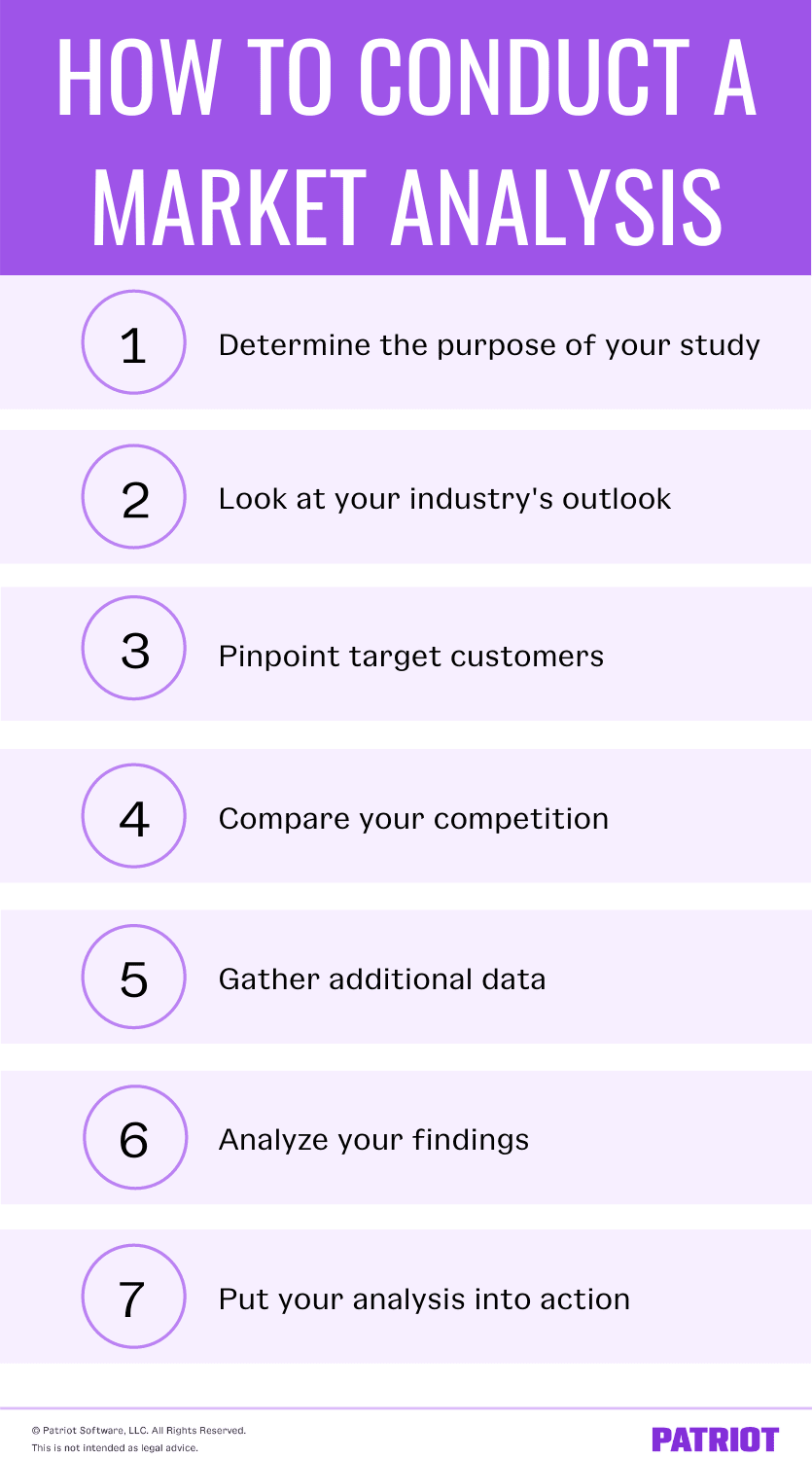 1. Determine the purpose of your study
There are many reasons why businesses might conduct market research. You may use them to assess business risks (e.g., threats), reduce issues, or create opportunities.
You can look at past problems to decrease future risks. And, analyze past successes to see what you need to continue to do in the future.
Before starting any market research, determine whether the analysis is for internal or external purposes. Internal purposes include things like improving cash flow or business operations. External purposes include trying convince lenders to give you a business loan.
Your analysis is a critical part of your small business plan. It shows lenders that you know your industry like the back of your hand and that your business has growth potential.
The kind of research you conduct varies depending on your analysis' purpose. For example, say you conduct a study for internal purposes. Because it's for internal purposes, you likely won't need to collect as much data as you would with an external purpose.
Make sure you determine whether your study will be internal, external, or both before proceeding with your research.
2. Look at your industry's outlook
In your analysis, outline the current state of your industry. Include where the industry is heading using metrics such as size, trends, and projected growth. Be sure to have relevant data to back up your claims.
This section will let investors or lenders see that you've done your homework on your business's industry. And, it will show them whether or not your industry is worth their time and money.
3. Pinpoint target customers
The truth is, not every person will be your customer. But that's OK! When you analyze the market, you must determine who your potential customers are. This part of the process is called a target market analysis.
You need to fully understand who your customers are and where they come from. Your research should paint a clear picture of your potential customers. Look at things like:
Age
Income
Gender
Location
Occupation
Education level
Marital or family status
Once you narrow down who your customers are, find out their needs, interests, personalities, and demographics.
Consider also creating customer personas based on your research. Many businesses have multiple customer personas. After you compile different customers' characteristics, build different personas to represent your typical customers.
Pinpointing your target market can help you better cater to future customers and market more efficiently.
As your business grows, your potential customers may evolve or change. Revisit your target market from time to time to ensure they still fit your business.
4. Compare your competition
To further analyze the market, you need to understand your competition. And, you must know who your competitors are trying to target.
Take the time to research what other businesses are out there. Look at things like your competition's offerings, location, targeted customers, and disadvantages in the market.
Make a list of all of your main competitors. Go through each one on the list and determine their strengths and weaknesses (SWOT analysis). What does their business have that you don't? Why would a customer pick a competitor's business over yours? Do they pose any threat to your business?
Once you outline your competitors' strengths, weaknesses, opportunities, and threats, rank them from most to least threatening. Then, determine your startup's advantages and marketing position.
Want to impress your friends at a dinner party?
Get the latest accounting news delivered straight to your inbox.
5. Gather additional data
Information is your greatest ally when it comes to conducting a market analysis. The more information you gather and have, the better off your business will be.
The data you have should be unbiased, relevant, and factual. You should be able to back up your research and make decisions based on accurate information.
Use credible sources to gather additional data. You can take advantage of different resources, such as:
State and local commerce websites
Trade journal articles
Competitors' strengths and weaknesses
Target market surveys or questionnaires
Information from interviews or focus groups within your target market
6. Analyze your findings
After you analyze the market, it's time to take a look at your findings. Lay out all of your research and organize it using different sections. Include sections for your purpose, target market, and competition.
Here are some other things you should include in your findings:
An overview of your industry's size and growth rate
Your projected market share percentage
Your outlook for the industry
Discounts you plan on offering
Buying trends
Your business's forecasted growth
Prices of your offerings
How much customers are willing to pay
Your cash flow projection
Your customer groups
Results of your other analyses
Based on your research, you will be able to forecast other things for your business, such as your cash flow cycle, gross margin, and customers' buying habits.
7. Put your analysis into action
Conducting a market analysis might seem like a daunting task, but your business will thank you for it later.
Sure, you'll spend a good chunk of time working on your marketing analysis. But, it's well worth it. Don't put all that extensive research to waste. Put your analysis into action.
For internal purposes, look at how you can use your findings to improve your business. Use your analysis to see if you can make any of your business processes more efficient.
If you conducted an analysis for external purposes, be prepared to speak with lenders about your research and conclusions.
Don't just box up your analysis and pack it away for "later." Revisit your market analysis every now and then for necessary tweaking.
A market analysis starts with keeping a close eye on your books. Streamline your accounting process with Patriot's accounting software. Easily record income and expenses to keep your business on track. What are you waiting for? Get started with your self-guided demo today!
Interested in learning more? Head on over to our Facebook and give us a like. We always enjoy making new friends!
This article has been updated from its original publication date of August 22, 2012.
This is not intended as legal advice; for more information, please click here.