Before adding an employee to your payroll, you need to fill out Form I-9 to verify they're legally allowed to work in the United States. But, what if you want to hire someone who's not authorized to work in the USA? You may be able to hire an H-1B worker, thanks to the USCIS's H-1B program.
Read on to learn about the program and how to sponsor an H-1B employee in your business.
What is the H-1B program?
Employers can temporarily hire workers who are not authorized to work in the United States through the H-1B program. Employers must apply to sponsor an individual for an H-1B visa that allows them to legally work for their business.
You might sponsor an individual who currently has another type of visa or is graduating from a college in the United States for H-1B status. Some H-1B workers rely on this temporary work visa until they are able to gain lawful permanent residence.
Whether you want to hire someone who currently has H-1B status or someone without it, you must file a petition with the United States and pay a fee.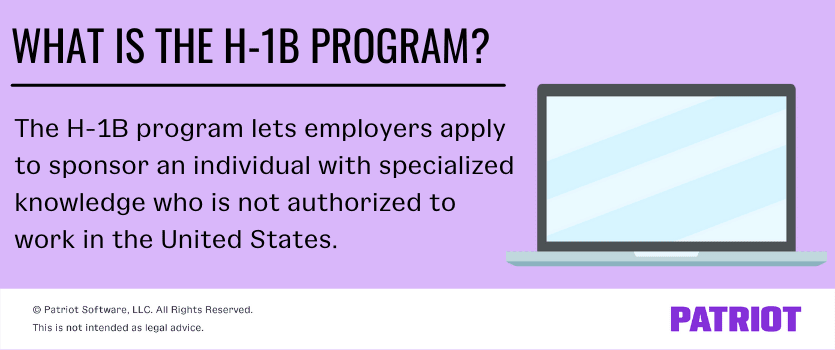 But before going over your employer requirements, we'll cover:
Who's eligible for H-1B status
How much the cost is to you
How long the visa lasts
Who's eligible?
Not all workers qualify for an H-1B visa under the USCIS (U.S. Citizenship and Immigration Services) program.
Eligible individuals include those in occupations that require specialized knowledge and at least a bachelor's degree (or equivalent) in the specialty field. These specialty occupations include:
Architecture
Engineering
Mathematics
Physical sciences
Social sciences
Medicine and health
Education
Business specialties
Accounting
Law
Theology
The arts
Individuals of distinguished merit and ability who are fashion models or relate to a Department of Defense (DOD) cooperative research and development project are also eligible.
What do you do if the worker doesn't qualify for an H-1B visa? There are other types of work visas individuals might be eligible for. Examples include an H-2A (temporary or seasonal agricultural workers) or H-2B (temporary non-agricultural workers) visa.
H-1B visa cost to employer
Again, you must pay a fee if you want to sponsor an employee for this type of work visa. There is a base filing fee of $460. But, you likely have to pay other fees, too.
Your total H-1B cost for employer might also include:
Fraud Prevention and Detection Fee: $500
American Competitiveness and Workplace Improvement Act of 1998 fee: $750 (employers with 1 – 25 full-time equivalent employees, unless exempt) OR $1,500 (employers with 26 or more full-time equivalent employees, unless exempt)
Public Law 114-113 fee: $4,000 for petitioners who employ 50 or more employees in the USA, where more than 50% of them have H-1B or L-1 nonimmigrant status
How long does an H-1B visa last?
An H-1B visa is valid for up to three years. After that, it's renewable for an additional three years.
Although the visa typically lasts for a maximum of six years, there are some circumstances where the USCIS may extend the authorization.
Your guide to hiring an H-1B worker
Both employers and H-1B employees must meet certain standards to protect both the H-1B worker and U.S. workers in similar positions.
Before hiring, understand your H-1B employer requirements. Here are the basic steps you need to take to get started on the H-1B application.
1. Verify the worker meets the H-1B qualifications
Before hiring someone, you post a job description. To ensure the worker is eligible, first confirm that the job qualifications on your job description meet the requirements for H-1B status.
Remember, the job must require specialized knowledge and skills obtained through at least a bachelor's degree. Likewise, the job candidate must have at least a U.S. bachelor's degree or equivalent foreign degree in the specialty occupation (or equivalent experience).
2. Determine the actual or prevailing wage
To protect both the H-1B worker and U.S. workers from unfair wage practices, you need to pay H-1B employees the higher of the:
Actual wage: The wage rate you pay other workers with similar experience and qualifications
Prevailing wage: Your locality's average wage for similarly employed workers in the occupation
You can obtain a prevailing wage for your locality from the National Prevailing Wage Center (NPWC).
3. Submit LCA to DOL for certification
Before you can file an H-1B petition with the USCIS, you need to submit a Labor Condition Application (LCA) with the Department of Labor (DOL). Your LCA states that you are compliant with the H-1B program requirements.
You can submit the LCA electronically through the DOL's FLAG system. Apply for and receive your certification from the DOL no more than six months before the intended employment start date.
And, keep your certified LCA in a safe place—you need it to apply with the USCIS.
4. File Form I-129 with the USCIS
Before you can become an H-1B employer, you need to file Form I-129, Petition for a Nonimmigrant Worker, with the USCIS. And, you must pay the filing fee.
When you file Form I-129, fill out "Part 2. Information About This Petition," not "Part 1. Petitioner Information." Provide the requested information about the employment situation. Attach all supporting documents (e.g., DOL-approved LCA) to your H-1B petition and enclose fees.
So, when do you file Form I-129? Well, it depends on whether you're filing on behalf of a first-time applicant or someone with H-1B status:
First-time H-1B employee: You must register electronically with the USCIS and get selected before filing Form I-129
H-1B change of employer: You can file Form I-129 at any time
First-time H-1B visa applicant? Do this first
Is the worker a first-time H-1B visa applicant? They may be subject to the annual congressionally mandated cap of 65,000 H-1B visas.
As a result, you must register electronically with the USCIS before you can file Form I-129. This electronic registration determines whether your petition is subject to the cap or not.
If you are subject to the cap, you can register for the annual H-1B lottery with the USCIS. You must register for the lottery system by the USCIS deadlines. For example, initial online registration took place between March 9 – March 25 in 2021.
You can only file Form I-129 if you are randomly selected through the lottery system or if your petition is exempt from the H-1B cap. If you are selected through the lottery system, you have 90 days from the selection date to file Form I-129.
For more information on the H-1B electronic registration process, consult the USCIS's website.
5. Fill out Form I-9
After the employee is approved for H-1B status, you and the worker must fill out Form I-9, Employment Eligibility Verification.
Why? Because Form I-9 is part of the mandatory new hire paperwork your employees must complete before they start working for you.
6. Follow DOL rules
After hiring an H-1B worker, remember to follow DOL rules regarding the employee's rights in the workplace.
You must:
Pay the actual or prevailing wage the entire time the employee works for you
Never ask the worker to pay fees relating to their H-1B visa (e.g., petition filing fee)
Provide your H-1B worker with the same working conditions you provide similarly employed U.S. workers (e.g., hours, vacations, etc.)
Provide the employee with a copy of your LCA
Keep hour and wage records
Never discriminate against an employee who discloses information about H-1B requirement violations
Hiring employees is a process. You know what doesn't have to be? Payroll. Try Patriot's online payroll to streamline the way you pay your employees. With our simple three-step process, the only thing you'll be wondering is why you didn't switch sooner. Get your free trial today!
This is not intended as legal advice; for more information, please click here.