Finding new work for your business is exciting. But sending an estimate? That can be a cause for a moment of panic. What to say when sending an estimate is important because you are selling your work and skills to a potential client. Read more about what to say when sending an estimate and how to determine the details to include.
What to say when sending an estimate
The basic elements of a business estimate are the description of the work, timeline, total projected cost, payment terms, and company information. Let's take a closer look at each item and what to include.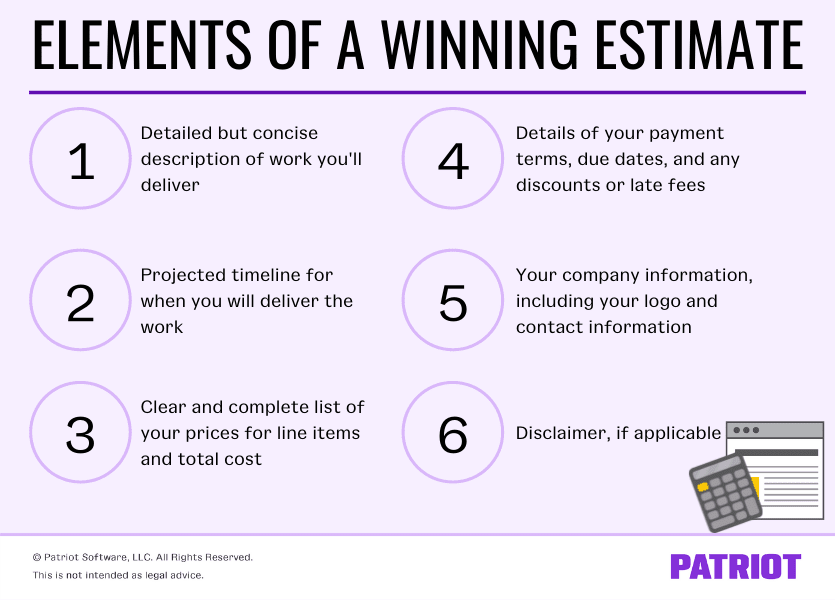 1. Include the scope of work to be done
Estimates must be unique to your customer and their needs. When deciding what to say when sending an estimate, consider a template. Why? A template can help you have consistency across all estimates. Your estimate should include a line-by-line description of the work you expect to perform if your client accepts your estimate. Be clear and include all work the client has asked you to do for the completed project.
Add in any materials you need to purchase and the number of items you expect to use.
2. List your projected timeline
Your client may have a timeline for their work, but your timeline may be different. Include the estimated time it will take to complete the work you're creating the estimate for. Be realistic and find a ballpark that works for you, your business, and with any other projects you have at the same time.
3. Clearly state your price
Your price is one of your biggest selling points for your business. List the estimated costs of all labor and materials in the project description. At the top or bottom of the estimate, include your total estimated job cost. Include any discounts or package deals to let the client know of any savings they may receive.
4. Outline your payment terms
Once you compiled the necessary information, determine your payment terms for your client. Do you expect payment after you complete the job? Should the client pay upfront? Or, can the client use a payment schedule? These factors are important to consider. Why? Because a client may choose the best payment terms to suit their individual needs.
You can also consider giving an early payment discount if the client pays in full by a specific date (e.g., paying the full amount at the start of the job).
Include any late fees or penalties on the estimate as well.
5. Include your company information
Do you have all the project details on your estimate? Perfect! Now you need to include your company information. Consider adding your logo somewhere prominent on the page (e.g., top left corner) so your customer can easily see whose estimate is in front of them.
List a contact name, address, email, and phone number so the client does not have to search for the information. You can put this information under your logo (if you include it) or under the project details.
6. Add a disclaimer to the estimate
While not necessary, adding a disclaimer to the estimate can help you in the long run. Consider including a disclaimer to your estimate that lets your client know the costs listed are approximate and subject to change.
Determining the details of your estimate
So, now you know what you need to say in your estimates. But, how do you determine those factors so they are realistic and earn you a profit?
1. Tailor your estimates to your client
General emails are great for sending information to all of your clients (e.g., coupon code emails). But when you send an estimate, having a general template only goes so far. Your clients are unique, so your estimate language should be customized to the client. When getting started on an estimate, think of any factors that can influence your pricing.
Before beginning your estimate, you should:
Ask questions about the specific work
Learn more about your potential client (e.g., look at their website)
Consider price breaks for any package services
Determine any deals for new or existing customers
Let's say your business handles general contracting, but you also offer plumbing, electrical, and masonry services. You have a client who has used your services off and on for several years, and they are looking to purchase a new retail space. They need help renovating the building, so they are seeking estimates for the work. What to say when sending an estimate depends on the answers to questions you need to ask.
Some questions to ask before you sit down to write your estimate include:
What kind of work needs to be completed (e.g., electrical work or plumbing)?
Will the client need multiple services, and can you offer a bundle deal?
Does the client have specialty items (e.g., lighting displays with specialized electrical work)?
Can you offer the client a discount for using your services in the past?
2. Be realistic with your time
When you speak with a potential client, ask for a completion date. Do they have a hard deadline, or is it more flexible?
Some other factors to keep in mind include:
How many projects you have on your calendar
The amount and complexity of the work to be done
Unforeseen circumstances with the project (e.g., COVID-19 temporarily halting work)
How many employees you have
If you are the only person working in your company, the timeline may determine if you need to hire additional help. Additional help increases your estimated costs.
3. Determine your best price
Everybody loves a good deal. But, a discount is only good for your business if you still see a profit. Your time and skills are valuable assets for your company, so don't sell yourself short. If you decide to offer a discount to new or existing customers, keep in mind that your price should still make you money.
Again, remember to clearly state any deals or discounts you offer to your customer on the estimate. This lets your client know that they are receiving a discount and that the pricing listed is not your standard pricing.
Consider researching the prices your competition offers. Can you afford to go lower? Or, do you have credentials that increase your cost (e.g., special licenses)? If you have any certifications or industry credentials for your business, make sure that information is readily available for current or future clients.
4. Send a professional-looking estimate
It's easy to buy estimate forms for you to fill out, tear off a pad, and send to a client. But, is it the best way? To write a winning estimate, make sure it is:
Easy to read
Detailed
Well organized
Clear
Error-free
Your estimate should be scannable yet comprehensive. Bullet points for each line item with a clearly defined price make it easy for customers to read.
You can use estimate forms when sketching out the estimate. But, consider looking for a way to produce an easy-to-read estimate, such as one created in online accounting software. A typed estimate says that you are a professional looking to do high-quality work.
5. Be prompt with your estimate
As the saying goes, the early bird gets the worm. In the case of estimates, being prompt can show potential clients that you are ready to get to business. If the work is time-sensitive for the customer, receiving an estimate quickly can be of the utmost importance.
And, be quick to respond to any questions or concerns the client may have. Speedy responses show clients that you are serious about doing business and that you respect their time.
Converting your estimate to an invoice
Your estimate is the winner! Great! Now what? After performing the work, it's time to bill your customers. That means you need to convert your estimate into an invoice. If you use accounting software, you can probably do this with a couple of button clicks.
If you are not using accounting software, you can create an invoice by changing out some of the language on the estimate. Rather than "estimated total" at the bottom, change the wording to "balance due." Include the invoice date and number as well as the due date for the balance.
While the estimate needs a detailed breakdown of the work you will perform, you can remove most of the in-depth information from the invoice. For example, if you perform electrical work, the estimate might say how much material you expect to use and outline where you will use it. You can list just the material, the amount used, and the cost on the invoice.
Did you add a disclaimer to your estimate? Do not include that with your invoice. The invoice shows your set price for the work, so you do not need the disclaimer.
What should you transfer from the estimate to the invoice? Transferable items include:
Your company and contact information
Labor and material costs
Discounts (if applicable)
Payment terms and conditions
Like estimates, deliver your invoices promptly to ensure timely payment. 

Are you looking for a simple solution to estimates and invoices? Patriot's premium online accounting software lets you create, convert, and track estimates from start to finished invoice. That way, you can quickly send estimates with the click of a button and get to business. Try it free for 30 days today!
This is not intended as legal advice; for more information, please click here.