Adding an E-Signature to a Check
Background
As the signer of your checks, you can upload an image of your signature (otherwise known as an electronic signature or e-signature) to be printed on your checks to W2 employees or 1099 contractors or vendors, to save you the time of manually signing each check.  You can add your e-signature to either pre-printed or blank check stock.
To add an electronic signature to your printed checks in Patriot Software
Create an image of your signature
Before you set up your e-signature in Patriot, you need to have an image file of your signature.  Here are some tips for creating an image file that will work:
The image file must be smaller than 4MB.  

The following are acceptable file formats:  .JPEG, .JPG, .PNG, and .GIF.

There are a few ways to actually create your image file:

Sign a white piece of paper with black or blue ink and take a picture.  You will most likely need to edit the photo so that the background is pure white or transparent.
If you have a scanner app on your phone, you can take a picture with the scanner app and save as an image.  The scanner app can format the image so the background is white.
Use an app that allows you to create a signature by signing on your tablet or phone and convert to an image.

When you upload your image file to Patriot, your image will be resized to fit a space on the check that is 345 pixels wide by 44 pixels high.  Think "long and skinny."  This is going to be much smaller than even low-resolution images.  You will want to crop your image so there is no extra space on the top or below your signature, otherwise, your image may appear too small on the check.
Your image will be placed above the signature line.  If you have letters such as "j" or "y" that normally sit below the line, these will be placed above, and your whole signature will be moved a bit higher.
When you are ready to upload your e-signature image:
Check the box "Print E-Signature on Checks."

Click "Choose File" to browse for your signature image file on your computer.  

Click "Upload."

You will see the signature image and filename appear.  If needed, you can replace the image.

Click "Save."
To see how your signature will look on your printed checks, click "Print Sample."
To nudge the placement of your signature on your pre-printed check stock, under Layout Adjustments, change your column and row number to move the signature.  For more details about nudging, see How Do I Format Items on my Paychecks? 
When you print your paychecks, your e-signature will appear on the PDF.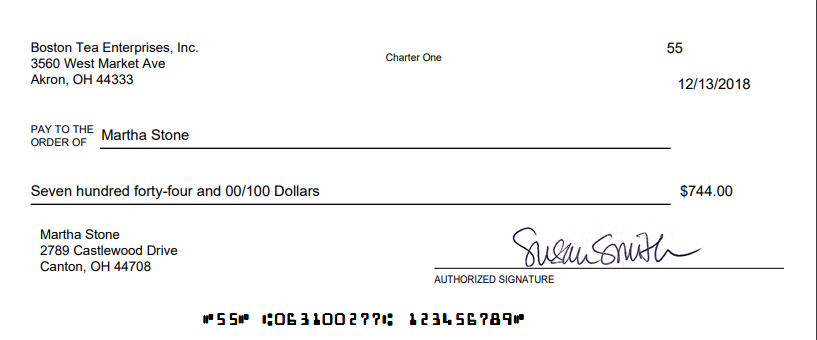 To temporarily stop printing your signature on your checks, or to not have it included on you can uncheck the box "Print Signature on Checks."   Your signature image file will remain uploaded and ready for use by checking the box again. This can be disabled on paychecks for W2 employees or checks to 1099 contractors/vendors or both.
Your feedback will not receive a reply. If you have a specific issue, please reach out to our support team here.