Easy-to-use
Accounting Basic Software
A simple online accounting software for small business.
Try It Free for 30 Days
Unleash the power of an easy-to-use accounting solution.
Receive/Record Payments
Receive money from your customers, and apply the money to the right product or service.
Easy & Unlimited Invoicing
Send and track an unlimited number of invoices to an unlimited number of customers.
Receive Credit Card Payments
Accounting customers can now accept customer credit card payments for open invoices.
Securely Connect Bank Cards
Connect your bank or credit card to automatically import transactions into Patriot Software.
Accounting Basic
Control the money going in and out of your business.
Accounting Basic also includes:
Free expert support
Track bank deposits & withdrawals
No long-term contract
Try It Free for 30 Days
Accounting Reports
Profit & Loss Statement
Your go-to report for Profit & Loss Statement.
Get to know your income, expenses, and net profit up-close-and-personal. The P&L statement measures the financial health of your business by showing income and expense details. Select a timeframe (e.g., month) to get started..
View All Accounting Reports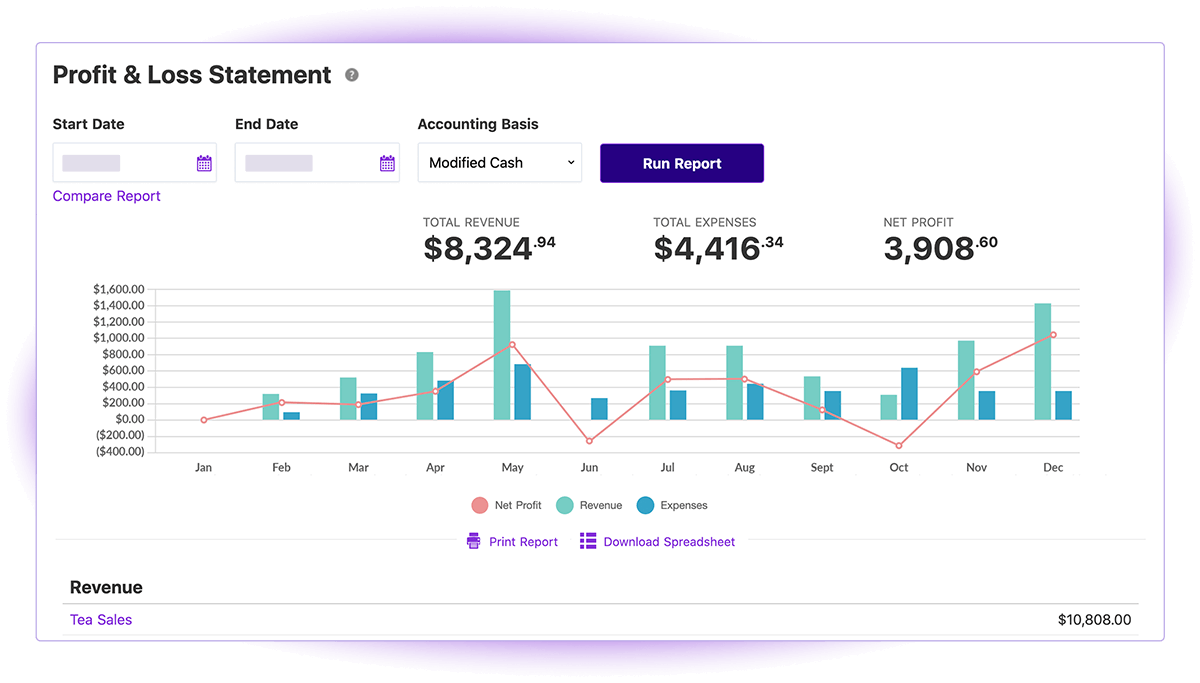 Accounts Receivable Aging
Your past due customer invoices, broken down in one report.
Stay on top of your past due customer invoices with a date-by-date breakdown. The Accounts Receivable Aging report clearly displays which customers are 30, 60 and 90+ days past due.
View All Accounting Reports
Balance Sheet
Your business's financial health at the tip of your fingers.
Check out your account balances anytime, anywhere. Find out your current total balance for accounts such as assets and expenses. Choose a specific date, which accounts you want to view, and how you want the money to be displayed.
View All Accounting Reports
Unpaid Customer Invoices
Review all of your customers' unpaid invoices with a couple of clicks.
Don't lose track of who owes you money. Pull up a detailed summary of all unpaid customer invoices you have created and sent. You can get into specifics by selecting customers, invoice numbers, and due dates.
View All Accounting Reports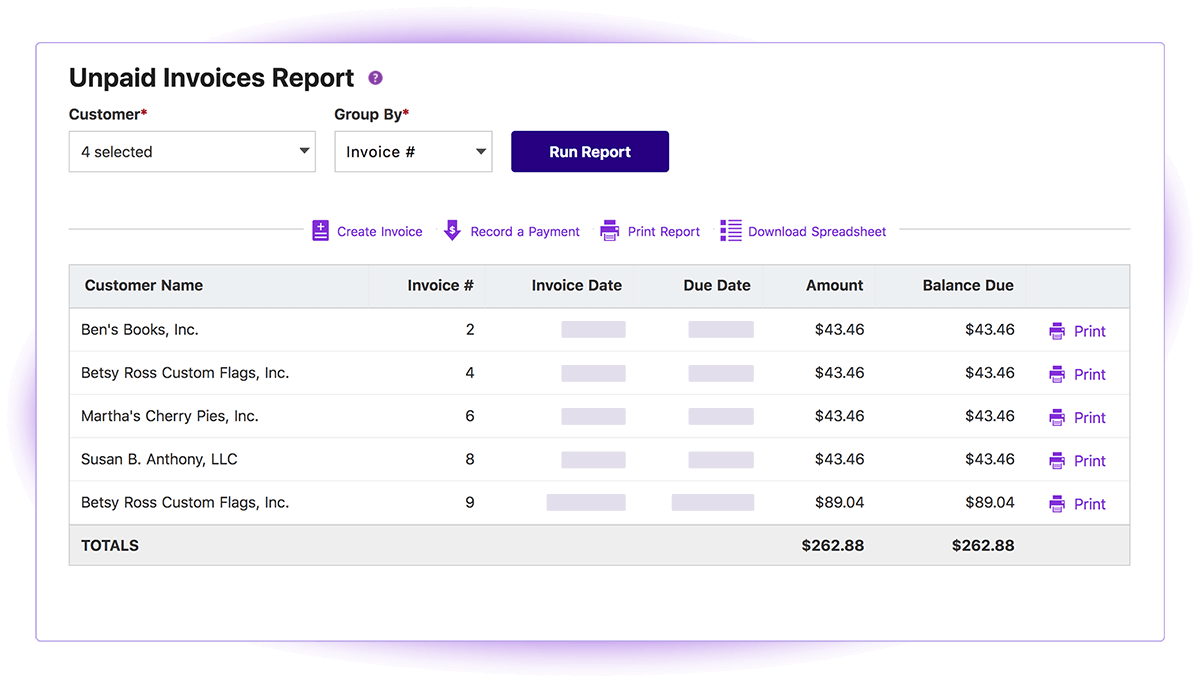 People love Patriot's simple Accounting Software.
Frequently Asked Questions
You've got questions, and we've got answers. We've answered the most common questions so you can start using our affordable, accurate, and reliable and basic accounting software like a pro.
Our Accounting Basic Software is an online system for small business owners who need an easy-to-use accounting solution. Why use accounting software? You can use either of Patriot's Accounting Premium or Accounting Basic Software anytime or anywhere that you have Internet access.
Relax! Our accounting software is designed to be easy for small business owners and, yet, powerful enough for accountants. Our software is simple, and there's plenty of help, tutorials, and videos built right in if you need help.
If you have questions, call our customer support department for help. We offer free routine support for all customers. You can also find quick answers with our online chat feature or search for answers on your own in our Help Center.
We made this accounting solution simple by design. You do not need any special training to track income and expenses, generate customer invoices, or print reports for your accountant. There will be plenty of help articles and videos to learn how to use the software.
Patriot will e-File 1099s for Full Service Payroll customers who are paying contractors through payroll at no additional cost for 2020 1099s and later years. If you have Accounting Premium, Accounting Basic, or Basic Payroll, here are the filing fees:
| Number of 1099s | Fee |
| --- | --- |
| 1 to 5 | $20.00 |
| 6 to 35 | Additional $2.00 per 1099 |
| 36+ | No additional charge |
Annual e-Filing Fees
For more information, check out our help article, Electronically Filing Your 1099s.
View All Accounting FAQs