Payroll Services,
Simplified for Your Business
Payroll Calculations + Tax Filings & Deposits
Full Service Payroll only $37/month+ $4 per employee (or 1099 contractor)
You Run the Payroll.

We'll Handle the Tax Filings & Deposits.

Run payroll and pay employees using our simple 3-step process. Patriot's online payroll services will then deposit your payroll taxes and file the appropriate forms with federal, state, and local agencies, giving you more time to focus on your business.
Trusted by Tens of Thousands!

Businesses rely on Patriot to streamline their payroll.
... [Patriot is] Simple, easy, and user-friendly. It's intuitive and really doesn't take me long. I was worried about all the tip income we deal with and all we had to do with it, but it's very easy.
Kelsey Daniels, Flights Wine Bar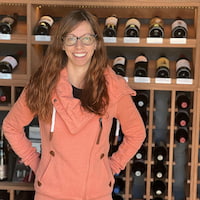 It simplifies the whole process. Where before we were clocking time and trying to keep track in Excel spreadsheets and determine tax liabilities, I just didn't have time to do that stuff. So, Patriot allows us to log the numbers, and it spits out all the numbers of what we owe per check and for the taxes.
Jon Kehl, Crown Community Garden
Patriot saved me from the nightmares of working myself too much and paying too much for complicated payroll software. Patriot made my payroll possible at an affordable price.
Sunni Liston, Dogpatch Resort
I talked with another payroll provider, and the price was 50 times what you were asking me for; it was insane.
I've really been able to grow my business. Without you guys, I wouldn't have been able to make that change. Now, I have a team of five–six tutors and a couple of other employees working for me. I couldn't have done any of that without Patriot.
Russ Hanush, Acclaimed Tutoring
We have three employees, so it takes me a minute to a minute and a half every other Friday to run payroll. That's a time-saver that I can just not beat. And, it's a headache I do not have. I've done my own payroll before, and I'll never go back to it!
Michael Gee, Zen Dog Mobile Groom Spa, LLC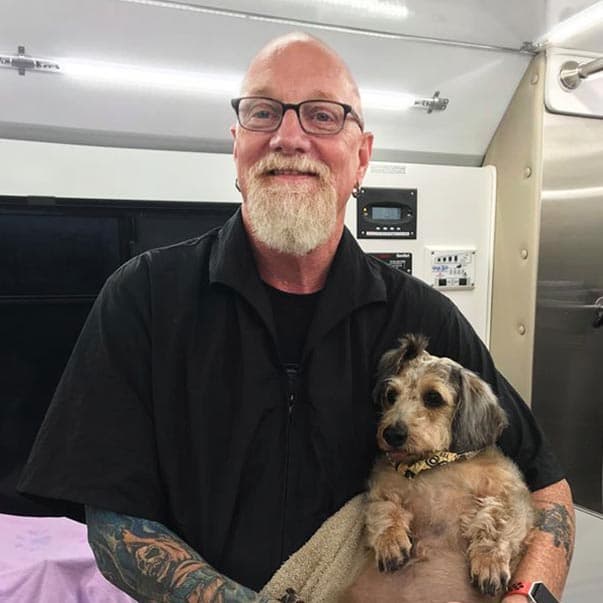 I just put in our employee's information, and they took care of the rest ... just the ease of having employees and knowing all the paperwork would be right, and I wouldn't need to figure it out. As we continued to add employees, [Patriot] made it easier and easier to know everything was being done right. That brought peace of mind.
Julee, Heartisans Marketplace
Patriot's Full Service Payroll makes it easier to handle a lot of our tasks. It makes running payroll a lot simpler, cheaper, and faster for us as a small business.
John Feghali, Toaster Party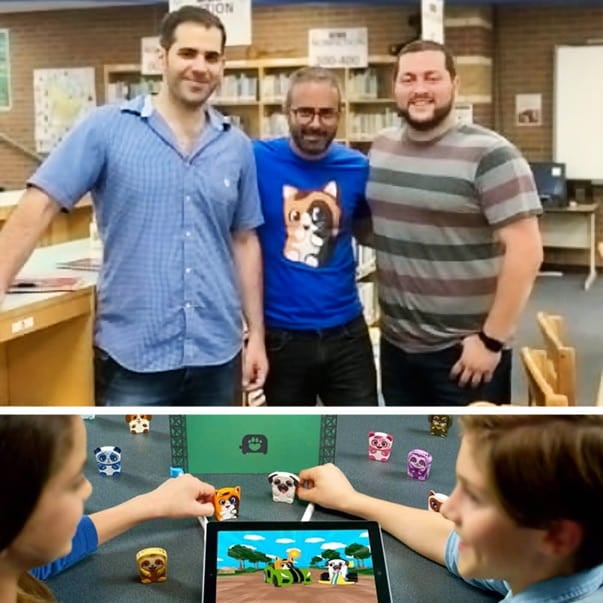 I don't have to spend more than a few minutes every other week to run payroll. I find the platform is easy to use. And, support has been really good any time I've had any issues.
Steve Sentner, Paw & Order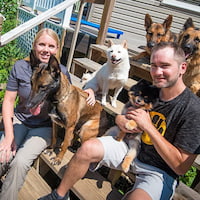 We're very small, so the biggest factor for us was the cost of payroll software. I didn't want to pay for a big program that we didn't need and I also do accounting, so Basic Payroll was the perfect fit for us. Overall, the price and the user-friendly website were the big factors for me.
Gail Horn, The Soap Chest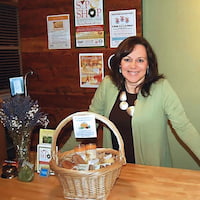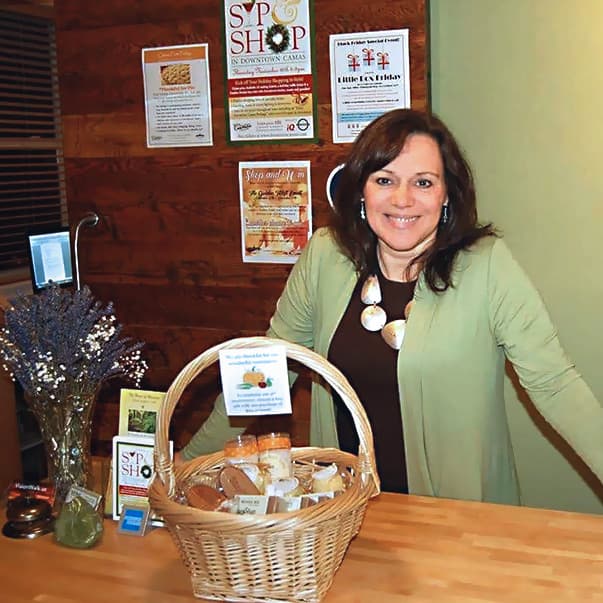 One of our biggest concerns of opening a business was needing to employ others and be compliant with all things that are required. Patriot has made that one of the easiest things!! Some simple data entry to set up a new employee and then a few minutes each pay period to enter the hours worked, and Patriot takes care of the rest.
Cardell and Karla McDonald, Show-Me Shaved Ice
We love Patriot! It makes it so easy to process tax documents, payroll, keep up with hours, and employee portals. The employees can log in to their portal and receive tax documents and their direct deposits.
It really keeps bookkeeping at a minimum and gives me more time to spend building the store and spending time with customers.
Ashley LaBarre, Tropical Envy Boutique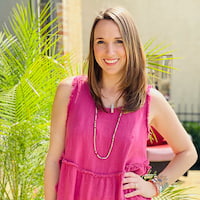 Lots of Payroll Reports ...

with filtering, sorting, and exporting capabilities.
Payroll Tax Filing Report
All of the tax returns Patriot has filed for you in a neat little package. Choose the tax year and view tax filings by quarter. You can download forms and see when we filed them on your behalf.
Payroll Tax Deposit Report
Shows all the payroll taxes that we deposited with tax agencies on your behalf (e.g., the date of filing, dollar amounts, and payroll period). Select a year to view both processed and scheduled tax payments.
Current Pay Rates
Who's getting paid what? How often? In what department? Our handy Current Pay Rates report is the perfect snapshot of what your employees are being paid right now. And if you add our HR software, we'll display the effective dates of the current pay rates, so you'll have all of your questions answered at a glance.
Departments in Payroll
Need help with decision-making for cost allocation, resource planning, or answering the ever-burning question: "What are the payroll costs for each department?" You'll love our Departments in Payroll Report!
Payroll Register
This shows all of the payroll you have run for all employees in the software, broken down easily by pay date. View details like employee hours, earnings, taxes withheld, and deductions, as well as employer taxes owed and contributions.
Individual Paycheck History
The payroll details you need for individual paychecks processed in our software. View an employee's payroll details like hours, earnings, employee taxes withheld, employer taxes owed, deductions, and contributions.
Payroll Details
Your go-to report for breaking down year-to-date details by employee, location, totals, or checks. Plus, we give you easy ways to download the report either with a PDF or CSV file.
Check/Deposit Payment Detail
See all payments made to all employees with this report. Select one or all employees for a specific payday range to see payment type (whether you paid them with check or direct deposit), amount, and account type.
Manage Time Off
Managing time off has never been easier. View time off balances for vacation, sick, or personal time. To get started tracking employees' used and available time off, set up the hour codes you want to use.
W-2 Summary Report
Preview Form W-2 details to ensure information is accurate before printing. Use the W-2 Preview report at the end of the year (or throughout the year) to confirm reported income is correct.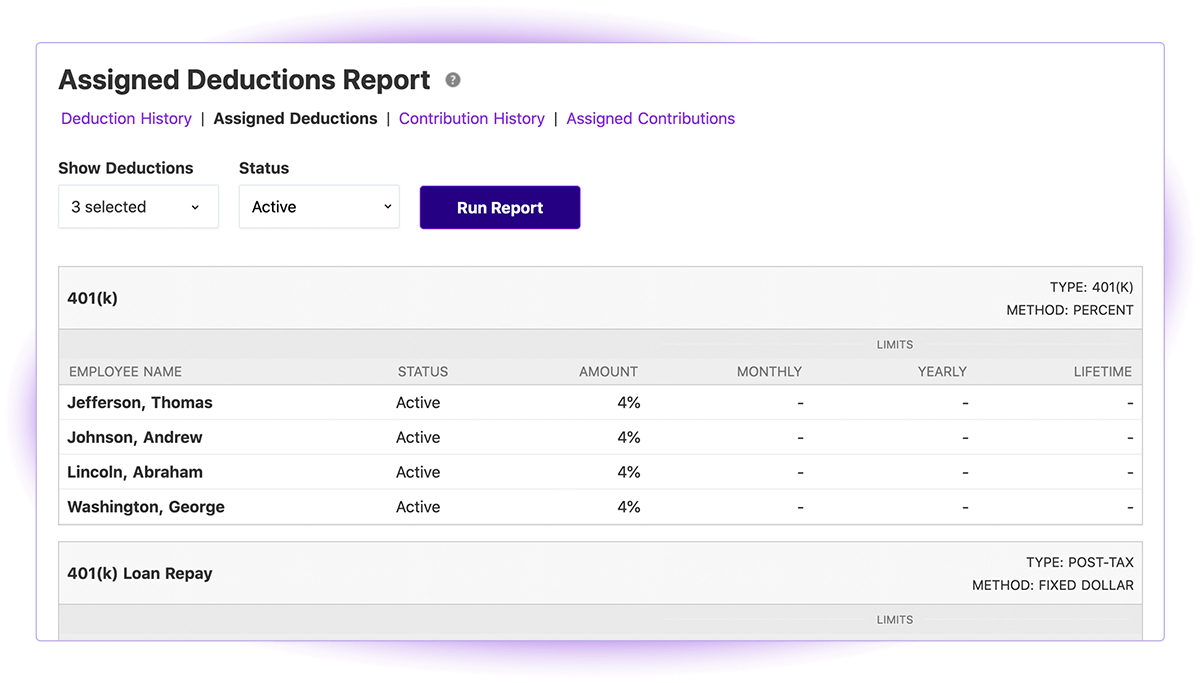 Assigned Deductions
Look ahead to see future payroll deductions you have scheduled. This report groups employees under specific deductions (e.g., medical). And, you can filter by deductions or status (e.g., active). Again, this report shows future—not historical—deductions.
Deduction History
Access all of your deductions from previous payrolls. Choose a time period to view employee payroll deductions that have already been deducted. Use this report to show individual and total deductions.
Assigned Contributions
View a summary of all future employer contributions scheduled. This report groups employees under specific employer contributions (e.g., 401(k) match). And, you can filter by contributions or status. This report shows future—not historical—contributions.
Contribution History
Your go-to report when reconciling benefit invoices or preparing to send your 401(k) contributions. This report gives a breakdown of all of the employer contributions you have made for your employees.
Payroll Tax Liabilities
How much do you owe to the state or on your FUTA taxes? With this report, you see your payroll tax liabilities for federal, state and local taxes. Basic Payroll software customers can use this report to handle their payroll tax obligations.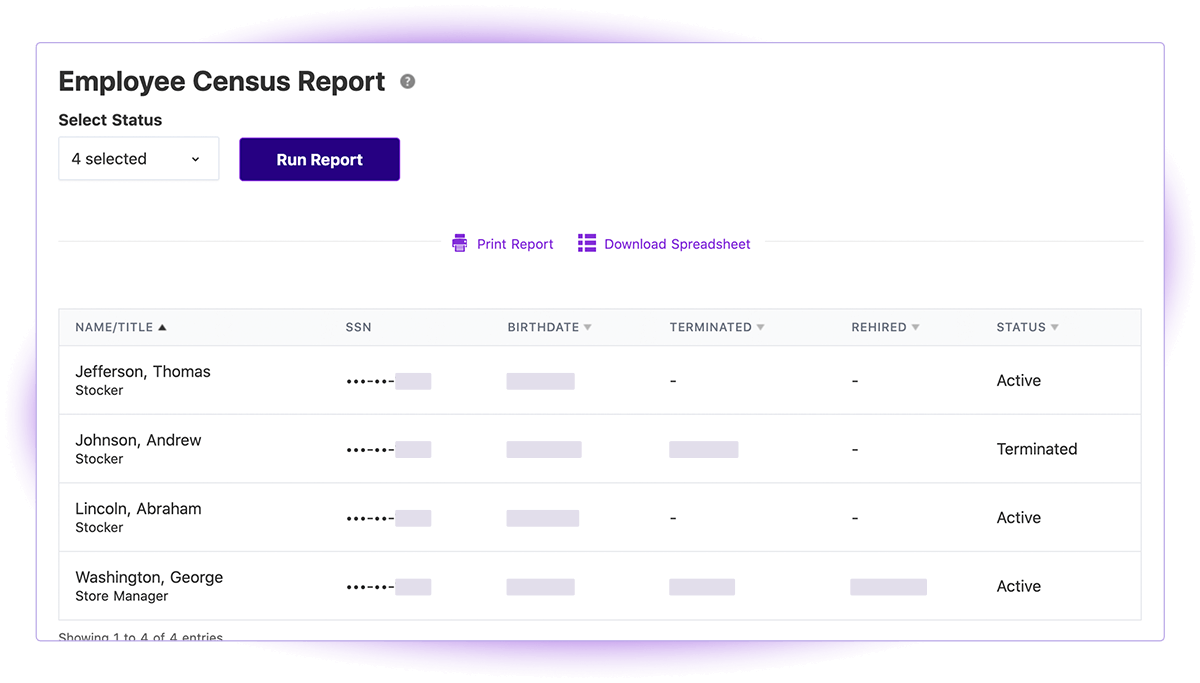 Employee Census
Need an employee's status, title, and other demographic info? We've got your back with this Employee Census report. View an employee's status to see if they're active, inactive, on a leave of absence, or no longer at your business (terminated).
Run Payroll in Under 3 Minutes

Our customers average less than 3 minutes.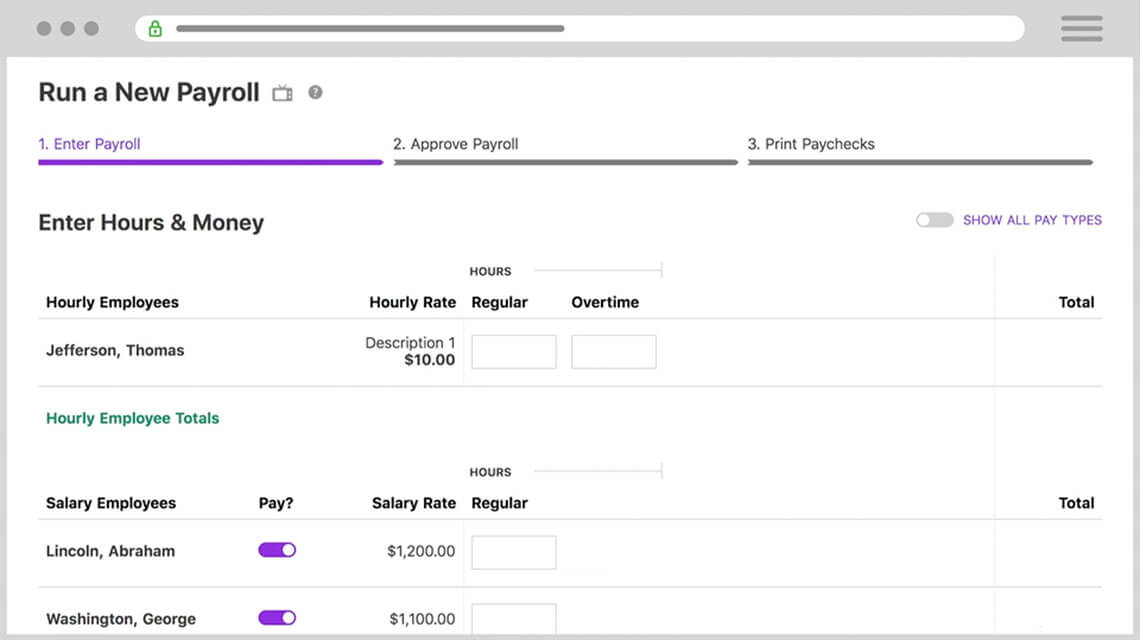 1. Enter Hours
Plug in employee hours or use our Time and Attendance Software to automatically import the hours to payroll. Easy-peasy...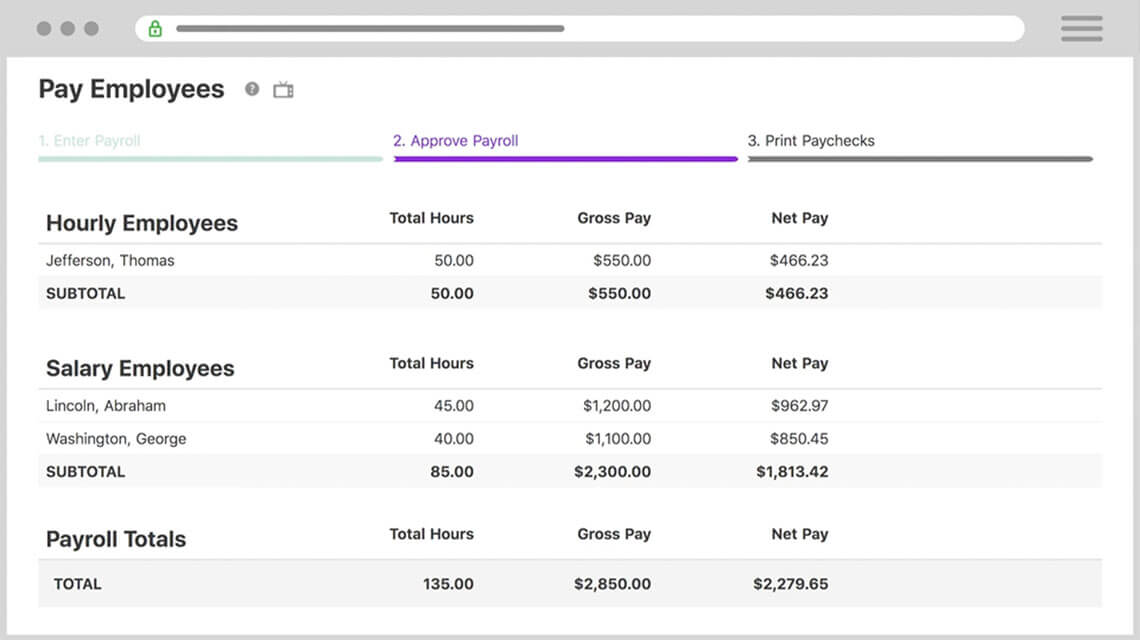 2. Approve Payroll
After you see our instant payroll calculations, it's one click to approve.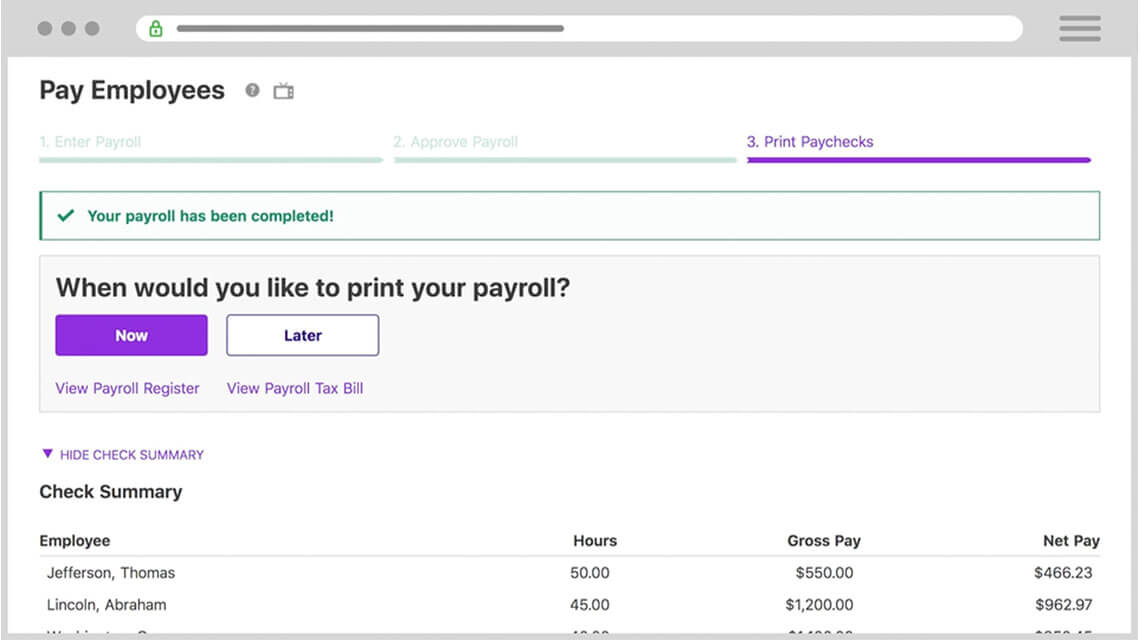 3. Print Paychecks
Print checks, use free direct deposit, or a combination of both. You decide how to pay your employees. The ball's in your court.