HR Software
An optional add-on to payroll—HR that's seamlessly integrated for you
HR Software starting at $6/month+ $2 per employee
More info about our software products
Lots of HR Reports...

with filtering, sorting, and exporting capabilities.
Demographics Report
Need to do EEO-1 or VETS-4212 reporting?
Then this is your go-to report. The demographic report will give you all the employee info at a glance to fill out the required reporting.
Retirement Plan Contributions
Simplify retirement plan management.
Easily track employee and employer retirement plan contributions so you know how much to deposit. Select a time frame and choose the contributions and deductions you want displayed in the report.
New Hire Report
Don't let reporting a new hire to your state slip your mind.
Use this report to track newly hired employees. Select a date range to view all your employees' names, SSNs, addresses, genders, birthdates, and hired dates.
HR Tools

Manage your employee data—alongside of your payroll
Designate Managers and Assign Direct Reports
Never be uncertain about who reports to who ever again! The Manager Settings page allows you to easily designate managers, assign managers' direct reports, and view manager and employee information all on one easy-to-digest page.
HR Manager Permissions
Streamline administrative tasks, eliminate paperwork, and reduce bottlenecks when you assign permissions to managers. Grant or restrict viewing direct reports' contact information, pay details, and emergency contact information right from their employee portal.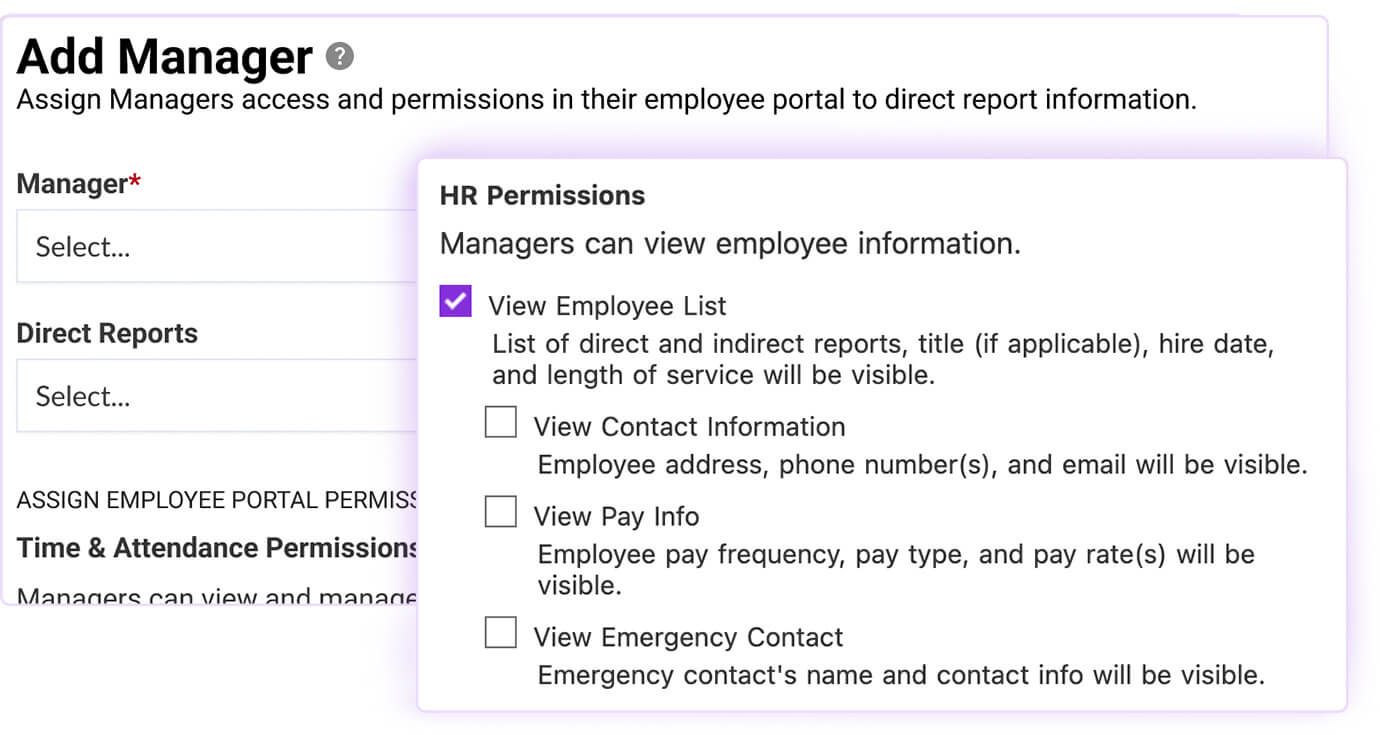 Manage Paperless Files and Documents Online
Store employee files, like job history data and emergency contacts, online so you can easily access them. And, you can upload and give employees access to company documents, like health insurance plan info, retirement plan info, and oh ... that employee handbook you worked so hard to create!
More info about our software products